Who's That Girl by Blair Thornburgh
Published by: HarperCollins
Date of Publication: July 11th 2017
Genres: YA Contemporary/LGBTQIA+
Pages: 400
Format: eGalley
*Many thanks to HarperCollins, Edelweiss, and Blair Thornburgh for the eGalley copy of Who's That Girl in exchange for an honest opinion
Junior Nattie McCullough is totally OK with her place in life: Latin whiz. Member of the school's gay-straight alliance. Joni Mitchell superfan. Seventeen-year-old who has never been kissed. So when last summer's crush and her former classmate—Young Lungs lead singer Sebastian Delacroix—comes back to town with his new hit single "Natalie," she can't bring herself to believe it could possibly be about her…could it?
As Nattie sorts through the evidence (the lyrics, Sebastian's elusive text messages, and their brief romantic encounter last year), the song's popularity skyrockets, and everyone starts speculating about "Natalie's" identity. If that wasn't mortifying enough, Nattie runs into another problem: her confusing, flirtation-packed feelings for her good friend Zach. With her once-average life upended, Nattie is determined to figure out once and for all if her short-lived past with Sebastian was something love songs are made of—or just a one-hit wonder.
Who's That Girl in many ways felt like a blast from the past to my High School days. A time when you're dealing with all sorts of emotions and also self identity not to mention, your first shots to the heart *insert pesky cupid here* When we first meet Nattie, she is OBSESSED with Pixstagram which as you've probably guessed is this books version of Instagram HAHA! On this app she keeps up with Sebastian and his band as they grow  their fandom. Sebastian graduated the previous year & they had 1 brief encounter that could be seen as romantic. Well for Nattie that one brief encounter was all she needed to feel a "connection" & when Sebastian's song "Natalie" hits the air waves, she is convinced. Mostly Nattie feels admired by Sebastian but then she starts feeling self conscious about the lyrics which then leads to her trying to remain anonymous. To distract her from Pixstagram every once in a while are Nattie's crew of friends who were my personal fave parts of this book. Nattie's best friend Tess is a lesbian & she's trying to bring the school together for a dance that would be inclusive of all those who fall in the LGBTQIA+ spectrum. We see Nattie & crew come up with ways to raise funds for this dance & deal with opposition. Now, there is sort of a love triangle if you're counting Sebastian as a thing…I sure didn't haha!
Our main protagonist Nattie wasn't my favorite in this book & that's only because her stream of conciousness was a bit difficult to follow. At times she does come off as annoying because her actions contradict what she's saying she doesn't want to happen. Specifically that she doesn't want anyone to know she's the infamous Natalie but continues to pursue Sebastian in public venues. The book however has some amazing secondary characters that I LOVED!…
*The Parentals- AKA the funniest parents I've come across in a very long time! & REAL! when we meet mom & dad they are getting on each others nerves over backyard projects that will make the neighbors raise a brow. I loved reading their dialogue & shaking my head at how authentic they come off. Their relationship with Nattie, specifically dad with Nattie made me heart smile more than once. If you've been around my blog a bit, you know I have a soft spot for father/daughter relationships 😉
Tess- AKA the BFF and leader of the OWPALGBTQIA (you'll have to read the book to get what this acronym stands for hehe) is legit ride or die for Nattie. Always there for Nattie, she will literally drop everything when she gets that Jamba alert. Tess is a lesbian who hasn't come out to her parents yet & hopes to do so by hosting her high schools 1st all inclusive dance. Loved seeing this friendship play out through ups & downs.
The Crew (with some honorable mentions)- As a whole, I loved this group of friends! they were fun and truly caed about one another. They knew each others likes/dislikes down to who has an allergy to what. In other words, they were TIGHT!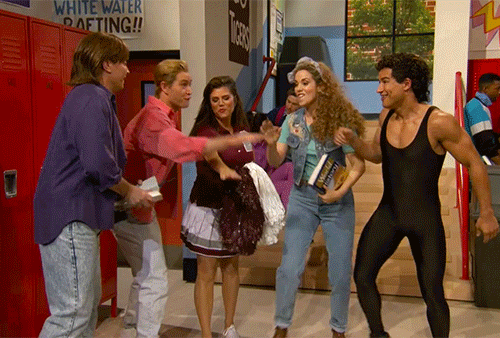 Although the characters were not all individually fleshed out, we still spend enough time with them to get to know their personalities. They each have nicknames they refer to each other by which I found very 80's like (Loved it!). My faves were Zach the Anarchist & Tall Zach, besides having the same first name they don't have very much in common but they're great friends. Tall Zach is gay, liked by many in the school, and just a sweet caring guy. Zach the Anarchist is sarcastic & loves to bake, he has no hairs on his tongue winning extra brownie points in my book.
Who's That Girl is heavy in dialogue & I struggled a bit with Nattie's inner monologue for the first half which is why I rated it a 3.5 stars. I guess I was way more invested in the crew & her parents that Nattie fell to the background. This is weird of me to say since she is who the story revolves around but not the most interesting in my opinion. This was however an absolute fun read with one of a kind friendships I could relate to which raised my appreciation. I have a thing for groups of friends that possibly dates back to The Breakfast Club & Nattie's friends felt like coming back home ❤ ❤ ❤
Readers, I'm looking for more books that feature groups of friends you just can't get enough of! please leave me some good recommendations & if you've read Who's That Girl, who was your fave character?