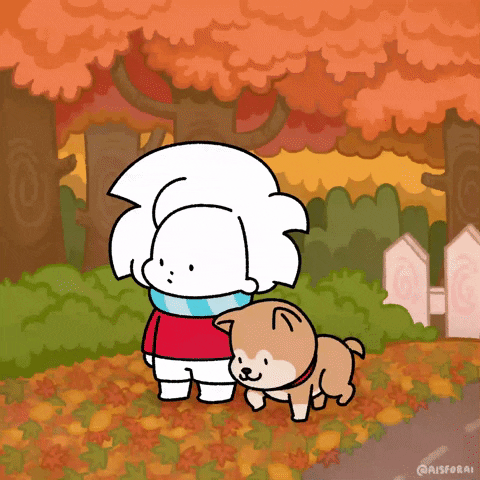 It seems only right that my first wrap up in a very long time coincides with the very first taste of cool weather here in New York City. While it was fun making my own Starbucks Oat milk Shaken Espressos at home, I'm ready for a lower maintenance hot cup of coffee this Fall. August was a month of spending time with friends, family and one VERY LONG road trip that ended up being an awesome time! it was also a month of consistently training my Brittany puppy Reese who is 8 months old and ready to tackle September's hiking trails. Over on Bookstagram I get a lot of questions about Reese, so far he's learned the commands sit, stay, drop it, paw, high five, down, and with me. His favorite words are eat, water, Dentastick, outside and go which he translates as run. Potty training was a labor of love but we've got him going outside every 8 hours/3x per day with no inside accidents *victory dance*
On the BOOKISH FRONT I surprised myself with reading seven books since I typically don't really go beyond five or six during the month. Part of this is because physical fitness has amped up my audiobook listening. It's not always that I want to jump into a book and for those days I've started listening to Podcasts. I've found some new faves to listen to while also admitting to myself that this is the reason why my TBR is once again bursting at the seams. These are some that I feel do a great job of covering new releases as well as hitting those backlist titles. To name a few: Reading Through life, From The front Porch, The Bookish Banter Podcast, Literally Reading, The Currently Reading Podcast, The Bibliovert Podcast and All the Books! (Book Riot)
My reading was giving off Fall vibes all throughout August, none of these were light in tone or plot but my heart was happy and I have a few new 5 star favorites…
Love in the Time Of Serial Killers by Alicia Thompson – ☆☆3 Stars☆☆ Overall enjoyable if you can get past the pessimist female lead with a knack for dropping serial killer pop culture trivia more than preferred. The grumpy-sunshine trope is done well, it'll just come down to how you mesh with Pheobe's personality, I have a full review here
Just Like Home by Sarah Gailey – ☆☆4 Stars☆☆ a PERFECT add-on to your spooky TBR's, this was an audiobook listen and I'm of the mind that this is the format to take in this story. I still hear the female lead Vera, bone-chilling and cold are the words that come to mind. The house this story takes place in holds many secrets which the author did a fantastic job of conveying from the very first page. It's disturbing, the last book that made me feel like this is just wrong! is when I read My Dark Vanessa. The relationship between Vera and her mother is just about as toxic as they come, no love lost between the two. This one is told in dual timelines with Vera recounting childhood interactions with her parents & present time. 
Shutter by Ramona Emerson – ☆☆3 Stars☆☆ sadly I can't remember too much of this one other than it was slow and the narrator just wasn't it. I wanted to love it since any stories that feature anything in the realm of forensics almost always piques my interest, but also it's set in New Mexico's Navajo Nation. The MC is a forensics photographer who also happens to see ghosts and they almost always need/want her to listen or help in order for their souls to rest in peace. She's met with one ghost who is very aggressive and won't be ignored, she wants her murder solved or else. At times gruesome with depictions of bodies that met violent ends, the supernatural aspects were well done. However, I didn't love that every single one of our MC's superiors was a disgusting pig who treated her terribly. She doesn't get much of a reprieve and the ending happened at lightning speed. Not sure if I would try this author again, may just not be for me. 
Spy X Family by Tatsuya Endo – ☆☆5 Stars☆☆ My first MANGA! and I can't stop singing its praises! Agent Twilight and the family he puts together for the sake of his mission are EVERYTHING! there were so many cute moments with Anya who is his telepathic fake child and bad ass scenes with Yor, his assassin fake wife. I just found out about the first season on Hulu and properly added it to my queue. 
 Jade War by Fonda Lee – ☆☆5 Stars☆☆ I hadn't stopped thinking of the Green Bones since reading 𝗝𝗮𝗱𝗲 𝗖𝗶𝘁𝘆 last December, their fates and fortune always at the back of my mind. This book is THICK! and not a single page was unecessary, not a single stone was left unturned bookworms! I enjoyed highlighting and annotating her pages with predictions and WTF moments. The stakes are even higher. The Weatherman has upped their strategic skills and our Pillar has fully stepped into his role. The war on the streets for Jade has now seeped into foreign countries…as in we've gone INTERNATIONAL!!! *please use the maps Fonda Lee has gifted us* good lawd, I almost turned my workspace into a war room to keep track of all the alliances and enemies closing ranks. EPIC and truly unforgettable, I think I'm ready for Jade Legacy. 
Nettle & Bone by T. Kingfisher – ☆☆5 Stars☆☆ I am guilty of picking up this book solely to sate the curiosity of meeting the wild chicken mentioned by every reviewer who's read this book. Mystery solved and I too couldn't get enough of said chicken or Bonedog! Every single character in this book brought me pure satisfaction and joy to meet on the page. If you're a lover of quests, animal companions, found families, and the take down of abusive men then this is the book for you. Marra is the third born Princess who was sent away to a convent while her sisters were married off to a Prince for political alliances. A prince who is abusive and quietly manhandles them until the shy and introverted Marra spots traces of his abuse. She seeks out a wise old gravewitch with hopes of being given the way the kill the Prince. On her quest she's soon joined by a reluctant and funny God Mother, a handsome loyal knight, a loving bone dog and a sassy chicken. This a genre bending (a lil bit of fantasy/horror), character driven, atmospheric and just all around fun time! I've already reserved a copy of T.Kingfisher's What Moves the Dead on Libby
After Hours on Milagro Street by Angelina M. Lopez – ☆☆ 5 Stars☆☆ I really enjoyed this story and will be on the lookout for more from this author. This is  a Latine story with a plus size Mexican American female lead who goes back home to Kansas in hopes of taking over the bar owned by her grandmother. Alejandra or "Alex" has acquired some social media fame as a trendy bartender in the bigger cities and is hoping to bring some of her style to the family bar. What she wasn't expecting was to be met with a matriarch who isn't ready to be told what to do with her business and in fact is asking that they prove why they make the best choice to sell to. It is a romance so what you can expect is the grumpy sunshine trope paired with close proximity and oh was it steamy AF! check out my full review here. 
---
Why this movie didn't get the massive Netflix marketing that some others received is beyond me! I LOVED it so much that I made it my second (the first goes to Always Be My Maybe) favorite feel good flick. This is a rom-com that is family centered and filled with many laugh out loud moments. There's also great commentary on what makes someone successful in life and whether that factors into your partner in marriage. Soon after I discovered the series Indian Matchmaking on Netflix and I'm currently still watching, top tier! 
---
*•.♡FOLLOW LAIR OF BOOKS♡.•*
Instagram: @LairOfBooks
Twitter: @LairOfBooks
Goodreads: LairOfBooks
The Story Graph: LairOfBooks