It's 12am & I can't sleep which means it's time for a book tag! special thanks to the lovely Sarah over at The Clever Reader for tagging me, if you're not already following her you probably should cuz she ROCKS! 💙 Sarah & I spoke about how the hard part is coming up with questions to ask afterwards so you'll be seeing my attempts shortly 😂
The Rules
Thank the person who nominated you and link back to their blog.
Answer the 11 questions your nominator has given you.
Nominate 11 other people and give them 11 new questions to answer.
List the rules and display the award
---
What is your favorite cover so far this year?
The Last Magician by Lisa Maxwell, this book is S-T-U-N-N-I-N-G in physical & ebook format! the matte velvety finish of the dust jacket combined with the raised shiny emblem of the coiled snake give it the dark & ominous feel. The good news is the story is just as good as the cover 😉
Do you enjoy Audiobooks or Physical/eBooks better?
Although I enjoy my audiobooks, nothing beats physical format for me. However, as much as I love physical books it isn't what I use most. I read a ton and sometimes finish a book in the AM & need a book to come home with on my evening commute. Which is why e-books are my lifeline, also It's how I consume the majority of my arcs. So if we're talking enjoyment then I'd say physical over anything 💜
What is your 2017 reading goal?
CONFESSION! I MUST CONFESS! 😩…I started the year off with a goal of 100 smh haha! I thought, well last year I read 80 so what's 20 more? yea, that isn't going to happen but my more humble 50 is within my reach 🙌🏼
What is your favorite genre of YA?
Hands down FANTASY! It's the genre I read most of & I wouldn't change it for the world! It allows me to enter many fantastical worlds where reality is suspended. It also features mostly female heroines so hell yea! 🙌🏼 This year had been my favorite year reading YA Fantasy because of the inclusion of POC's & the Own Voices authors debuting their works. So many great 2018 titles to look forward to.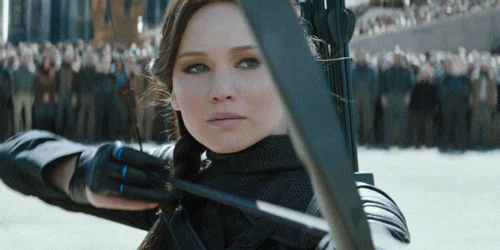 If you could live in a book world which one would it be?
Defy the Stars by Claudia Gray, I can totally see myself enjoying life hopping from planet to planet while living aboard a ship. I'd def have a preference, The planet called Kismet is described as a water-world with tropical weather & fun loving people/culture. The downside being that only the privileged wealthy can afford to lay up on Kismet but that wouldn't stop me from trying to sneak in 😂
Who's your book boyfriend/girlfriend?
This is a hard one since I don't really see any of the protagonists in my books as boyfriend material lol. However, for a while there Wallace Warland from Eliza and her Monsters shot straight for my ❤️ & then there was a very douchey scene that left me a bit peeved at him haha!
What is your favorite mystical creature?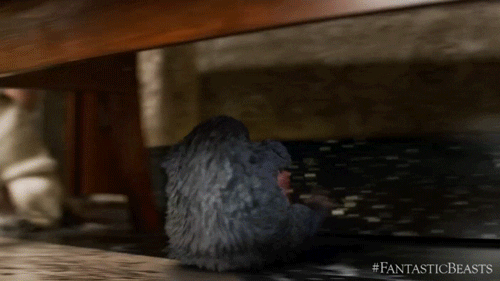 This little one is my fave as of late & in fact will be my next Funko Pop! So friggin cute & mischievous 😏
If you could meet any author who would it be?
I won't go with the standard pick (JK Rowling) this time…Instead I'll go with a new fave, Angie Thomas for many reasons. Mostly though because I think she's amazing for writing about the hard topics & exposing a ugly truth that exists and is very relevant to our current times.
What is your anticipated read for the rest of this year?
This most certainly is The Girl in the Tower by Katherine Arden, the sequel to The Bear and the Nightingale! Katherine Arden blew me away with her lush world building & beautiful writing, I needed more! thankfully, I was approved for a eGalley & it legit makes me smile every time I see it in my reader 😃
If you could have any power what would it be and why?
I've actually always wanted to have the power to control the weather since discovering Storm on X-Men. Ironically, It's the one I really wish I had now more than ever given everything our world is experiencing…
What book in the Harry Potter series is your favorite?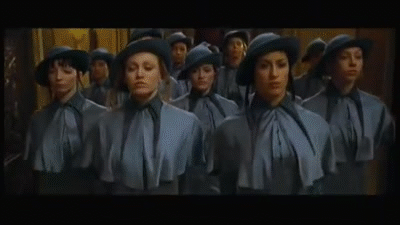 Recently I was made aware that Goblet of Fire isn't as well loved by most…this little bookworm however, LIVES for this book & movie! 🙌🏼 everything about this installment in the series from start to finish sucks me in. I can be doing a million things at once while I'm home but this scene in the giph will come on & time stops lol. I LOVE when each school makes their dramatic entrance haha!
---
My Nominees are…
@DarqueDreamerReads, @FlaviatheBibliophile, @DreamyAddictions, @ReadingEveryNight, @TheBookLagoon, @RoamingReader, @BionicBookwormBlog, @KourtniReads, @ByHookorByBook, @HuntressofDiverseBooks, @ZezeeWithBooks
---
My Questions…
1. Which HP house were you sorted into? and if you could switch out, which other would you choose?
2. Which supporting character would you swap with a main character w/out hesitation?
3. What is your favorite book to movie/tv show adaptation?
4. Name 1 book you'd love to see on the big or small screen
5. If you were to have 1 day of book shopping with either your fave author or fictional character, who would it be?
6. Which 2017 read surprised you the most?
7. What is your TOP favorite 2017 read so far?
8. Name your favorite debut author of 2017
9. Du-ologies or trilogies? do you have a preference?
10. Do you have a favorite long standing series you're committed to seeing to the end?
11. Which 2018 read are you looking forward to the most?