Top Ten Tuesday is a weekly meme hosted by The Broke and the Bookish! Each week, a new topic is put into place and bloggers share their top ten accordingly. This weeks topic is: Top Ten Books I Hope Santa Brings (If you celebrate a different Winter holiday, adapt this topic to fit it!). I don't always have 10 to actually list for this meme & so being the rule follower that I am smh lol, I usually pass. I also didn't think I'd have many to list for this week seeing as I have a self confessed problem with book shopping & for the most part I'm very blessed to own the books that I do. This list won't contain much Young Adult because again lol, I book shop all year long & own my favorites. No, this list will appeal to my book vanity…yea, don't judge me, chances are you too love a beautiful cover. It's a weakness & I fully embrace it!
Book covers—>  Book Depository = U.K. Covers
                    Amazon = U.S. Covers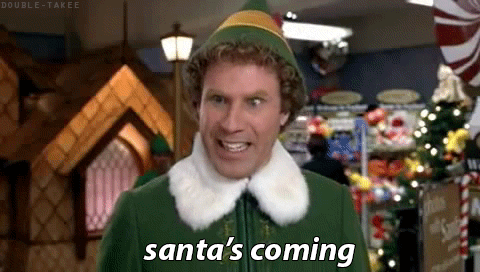 On to the list…
Top Ten Books I Hope Santa Brings
1. The U.K. edition of The Bear and the Nightingale by Katherine Arden
If you've been around my blog for a while now, you probably know how much I love this book! It's become an all time favorite of mine & I'm a bit OBSESSED with Katherine Arden's writing & world building. I own a copy of the U.S. Edition & missed out on the opportunity to get a U.K hardback Edition when it was still available at Bookdepository. I've got my notifications on for whenever it's re-stocked but chances are it's not going to happen anytime soon so Santa if you're listening I've been too good this year! HAHA!
---
2. The U.K. edition of The Bear and the Nightingale by Katherine Arden
I actually just finished reading this AMAZING sequel to The Bear and the Nightingale & ahHHH!!! how can this have been even better than The Bear?!?!? How?!?! I still can't believe it & will treasure these books FOREVER! I am in the process of getting my thoughts together for a GUSH review this week. I have an arc of this book & am patiently waiting for this hardback to be released in the U.K *eeeeeK*
---
3. Fantastic Beasts and Where to Find Them: Illustrated edition by J.K. Rowling/illustrated by Olivia Lomenech Gil
I mean…C'mon! if you're a Potter head, chances are you either already own a copy or it's on your wishlist. I was surprised to not have known this was even a thing! I've seen the U.K. edition which is a nice soft blue but there's something about this red that I am in LOVE with! Really looking forward to flipping through what I can imagine are STUNNING illustrations *heart eyes*
---
4. An Illustrated History of Shadowhunters and Denizens of Downworld
This one has been on my wishlist for WAY TOO LONG! I started reading the Shadowhunter books way before I became a blogger & it's probably one of the longest series I've pretty much stayed committed to. I haven't loved all of the books but I have for the most part enjoyed most of them. The Infernal Devices trilogy will forever be one of my top faves. I've seen so much of the artwork in this Edition all over Bookstagram & OHMYGOODNESS! hats off to the illustrator! *heart eyes emoji* 
---
5. Long Way Down by Jason Reynolds
I have not yet picked this one up & it's not for lack of want. I do want to read this but there's also a part of me that needs to mentally prepare for this read. I know it will rock me to my core & it's one that I absolutely MUST read as I myself am a mother of a tiny human who one day will be a young black man. I will be reading Long Way Down in the New Year.
---
6. Tarnished City (Dark Gifts #2)
I thought I had completely gotten over Dystopia as a whole…until I came across Vic James' Gilded Cage which was the first book in the Dark Gifts series. I am SOOOO ready to read Tarnished City which I've heard from some trusted bookworms, is EPIC!!! Well, unfortunately this isn't out yet in the U.S. only in the U.K. & I am quite split between the covers…I love them all lol! but I've recently decided to go with the U.K. editions but then again that might just be me trying to read the sequel NOW! haha 😉
---
7. The Name of the Wind: 10th Anniversary Deluxe Edition (Kingkiller Chronicle)
*Usher voice* This is my confession…jeje!I haven't read Name of the Wind but again it isn't for lack of want lol. I know I'm going to love this book, call it Bookworm radar? well, I haven't started the series because I've heard that there are extensive waiting periods between books & I already have enough of that with dear Ol' George RR Martin. Anyways, this Edition has red sprayed edges & that is yet another one of my bookish weaknesses I've come to accept so yea this is definitely on my Christmas wishlist 🙂
---
8. The Secret History: 25th Anniversary Edition by Donna Tartt
I've had Donna Tartt on my list of authors I'd like to get around to but haven't been able to decide between The Goldfinch & The Secret History as a stepping stone. I finally decided after reading several non-spoilers reviews that this is the one I want to start with. TBH, a college setting just seemed more appealing to myself over the art world The Goldfinch is set in. This isn't to say I wouldn't read The Goldfinch, I just can't resist college drama bahhha! also, I love the all white minimilistic paperback edition currently in the U.K. a ton more than the U.S. Edition, please don't ask me why LOL!
---
9. Gray Sister (Book of the Ancestor #2) by Mark Lawrence 
This is a arc I have requested from the Publisher & I'm REALLY hoping the book Gods put in a good word for me. I LOVED Red Sister to the moon & back! So I guess you can call this a Christmas wish to the publishers? I'm counting it! lol. Look at that cover?!?! Nona is one kick a** MC & I am SO ready to return to this world *fingers crossed*
---
10. The Heart Forger (The Bone Witch #2) by Rain Chupeco
one of MOST highly anticipated sequels of 2018 & I CANNOT contain my excitement!!! It wouldn't be a Christmas list if I didn't include at least 2 Christmas miracles lol so this is my 2nd wish. I e-mailed the Publisher for a arc & was shooketh when I received  response that a copy would be sent my way. I still haven't received my copy & am patiently awaiting its arrival. Legit, I'm probably going to faint a million faints when it arrives!!! *fingers crossed*
---
Happy Tuesday Bookworms!!! If it isn't a book or bookish related, I really don't know what to say when over ones ask me what I want for Christmas smh. I think they've come to expect it by now lol, what are some of the books on your Christmas wish list? sound off in the comments below <3's!
---
FOLLOW LAIR OF BOOKS ON…
Instagram: @LairOfBooks
Twitter: @LairOfBooks
Goodreads: LairOfBooks