Title: The Simple Wild
Author: K.A. Tucker
Pub. Date: August 7th. 2018
Genre: Contemporary Romance
Publisher: Atria Books
Pages: 388
🖤 ARC provided by author in exchange for an honest review 🖤
GOODREADS | BARNES & NOBLE | AMAZON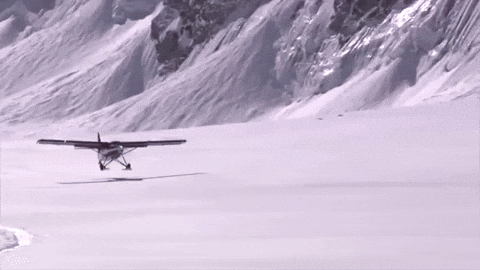 Whenever K.A. tucker writes a book I stop whatever I'm doing to read said book & gahhhh! I'm always left with a book hangover but it can't be helped. I LOVED The Simple Wild & felt the relationships that formed all throughout the very depths of my soul. This is the story of Calla Fletcher who we meet in the process of losing her 9 to 5 office job. She lives at home with her mom and supportive Stepdad Simon while also running a lifestyle blog on the side with her best friend. One day she gets a call from a woman asking her to fly to Alaska to see her dad who is terminally ill. Calla feels so many things at once for the man who stayed behind when she was just 2 years old & her mother decided she wasn't cut out for Alaskan life. Feelings of abandonment, detachment, and also a need to have her questions answered.  Calla doesn't know very much about Alaska other than the stories & descriptions her mother has shared, none have been very pleasant. She isn't prepared for the change in lifestyle or the people who will become like a second family to her while she gets to know her estranged father.
"Life up here may be simple but it's not easy, and it's not for everyone. Water runs out; pipes freeze; engines won't start; it's dark for eighteen, nineteen hours a day, for months. Even longer in the far north. Up here it's about having enough food to eat, and enough heat to stay alive through the winter. It's about survival, and enjoying the company of the people that surround us. It's not about whose house is the biggest, or who has the nicest clothes, or the most money. We support each other because we're all in this together."
We follow Calla as she settles into her dad Wren's home, they're strangers sharing a house for the bit of time she is visiting. I loved that Wren wasn't written to be the type of dad who right off the bat wanted to justify his decision to stay behind while she was raised without him. He's a quiet man full of regrets but he also understands that Calla flying to Alaska to see him is a big move on her behalf. While navigating the awkwardness around seeing her dad for the very first time, Calla also has to deal with the tall, rugged, unshaven yet handsome, proud Alaskan neighbor. Jonah has been her dad's right hand man in a small yet profitable charter plane business. He loves everything about life in Alaska and in many ways is a younger version of Wren. Calla is a trendy city girl who has had a moderately easy life back home. Jonah sees Calla as attractive but he also has a ton of reasons (mostly Calla in his opinion being high maintenance) for which he'd never act on anything. This is definitely hate to love & I LIVED for every moment of this romance! 💓
*Content Warning: Death, Cancer, abandonment, grief 
Calla, I feel was dealt a hard hand. Not only does she have to face her dad with all her feelings of abandonement but she's also uprooted and very far from home in a state that isn't accommodating to city lovers. She then meets Jonah who although she's sexually attracted to, finds that he can't stop giving her a hard time. Calla loves to dress in the latest fashion and trying out new hair/makeup products. I saw nothing wrong with trying to maintain some level of norm while being in a place that demands you shed your past life. I loved that Calla was the complete opposite of her mother, she didn't allow her mother's experience to taint her view of Alaska. She's open minded & willing to put in the work. At her very core, I felt Calla had Alaska running through her blood 🖤
Jonah as rugged as they come, but he's honestly all bark and no roar 😂 Jonah has a huge heart & he's very vulnerable when it comes to those he loves. Wren is someone he views as a father figure and just wants to make sure he's well taken care of. Jonah loves piloting planes and is the very definition of a space cowboy. He isn't without purpose though, life isn Alaska is all about community & he loves to help out whenever/wherever he can. I was bothered a bit by how hard he got on Calla over her wanting to do her makeup/hair, it just shouldn't have mattered & I'm glad that ultimately it didn't. Besides that, it's safe to say I swooned hard for this guy 💓
Wren aka Calla's Dad a man of very few words who fell in love with Calla's mother but knew deep down she'd never be happy living in Alaska. Respectful and regretful all at the same time, Wren knows he could've been a better dad. Seeing the subtle way he showed Calla that he was happy to have her there warmed my heart. Ultimately my heart went out to Wren who although it may appear he continued living after Calla's mom left, really has just been holding onto them both from afar.
Calla's Mom Perhaps my least favorite of all the characters. I can understand making mistakes in life & doing what's in your best interest. I get it. When Calla's mom decided life in Alaska wasn't for her & she had to get back to life in Toronto, she got to take Calla with her. My biggest issue with Calla's mom is that she continously harps on how miserable she was during her time there. This happened up until the very last minute of Calla packing to go to Alaska. Then she persistently called Calla in what felt like she was hoping Calla would feel the same way & hate it there too. Lastly, although I know this happens, I am never comfortable with it. Calla is clearly still emotionally attached to Wren & there's mention of years past where she very much could've left Simon her current husband, for Wren. I feel this was emotional cheating 101 & Simon just didn't deserve it.
Simon aka Stepdad SUPER SUPPORTIVE! is very well aware of the feelings that still linger between his wife & Calla's dad yet that never changes how good of a stepdad he is to Calla. Simon is a Psychiatrist & listening to Calla comes as second nature. He is by all definition a real dad to her, Simon definitely deserved a better love than Calla's mom but that's just my opinion 🤷🏻‍♀️
K.A. Tucker's characters always manage to linger in my thoughts way past the last page. It's not just the MC & their love interest, it's the way she brings in side characters you begin to think of as family. I LOVED all of the characters Calla met in Alaska and often wonder about their lives only to have to remind myself that they are fictional characters. Alaska really did come to life on the page and it just seems like Tucker really did her homework on the way of life all throughout the state. I enjoyed seeing the trips Jonah took on his small aircraft into the more rural parts of Alaska where medical help & supplies are needed. The Simple Wild will transport you into it's cold atmospheric setting but I guarantee you won't want to leave once you meet the hard-working & neighborly people who will treat you like family…
---
Happy Sunday Bookworms! by the time you're reading this i'll probably be on my 2nd cup of coffee 🖤 but I'd love any RECOMMENDATIONS for contemporary romance books with atmospheric settings…
---
FOLLOW LAIR OF BOOKS ON…
Instagram: @LairOfBooks
Twitter: @LairOfBooks
Goodreads: LairOfBook