It's Friday for this New Yorker & I could NOT be happier to start this 3 day holiday weekend!!! After all, this is the weekend before BEA which means it's legit prep time for many bookworms…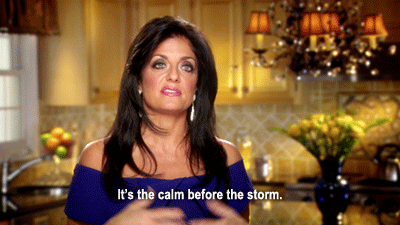 I'm super excited to be seeing many of my friends both far & near next week. Some of them I'll be meeting for the very first time in person but I feel like I've known them my whole entire life. With that in mind, I've been trying to keep my reading light. I'm finally in a good reading flow and want that to continue by only reading books I've been absolutely excited to get to. I also have a few reviews that I'll be streaming throughout the coming week (Middlegame, Vicious (Sinners of Saint #1) & Serious Moonlight) to get back in the flow of things. This weekend I will most likely be heading to D.C. which means all of my reading will take place on my commute to & from (4.5 hours)…as long as sleep doesn't sabotage my plans *fingers crossed* 
Red, White & Royal Blue by Casey McQuiston
I am 250 pages into this Contemporary New Adult & really enjoying it so far. It's the LGBTQIA+ LATINX read I didn't know I needed in my life. This follows the son of the first female President of the United States in a hate to love romance with the Prince of Wales. Not only is the chemistry off the walls but there's an amazing friend group I can't get enough of. I find myself constantly laughing out loud on the train ride to work and shaking my head in awe. Politics does play a big role in this story & I'm loving how McQuiston has pulled in some very relevant current day issues impacting this romance. I am only half-way through with hopes to finish this read tonight.
Sorcery of Thorns by Margaret Rogerson
Initially I had my heart set to jump into The Silent Patient by Alex Michaelides (still next on my queue after this read) which was one of my May Book of the Month add-ons. Then I was blessed by an awesome friend who text me asking if I wanted her arc copy of Sorcery Of Thorns. I really didn't even have to think twice before I accepted after hearing non-stop early rave reviews. One of my 1st jobs ever (unpaid) was as a Librarian Assistant in 5th grade. To come  across a book about books that have a life of their own…Grimoires that are kept in chains and guarded by a Warden?!?!  YES PLEASE! SIGN ME ALL THE WAY UP! I haven't been this curious about a book in a VERY long time. *fingers crossed* it becomes a new favorite.
Honestly, I'm quite surprised I have yet to watch Big Little Lies. I read Liane Moriarty's book some time last year & was as hooked as I was back in the day to Desperate Housewives on abc. To further entice me, it features two of my fave actresses, Reese Witherspoon & Nicole Kidman!!! *GASPS* I ABSOLUTELY LOVED the book & have high hopes for this HBO series, especially now that it's been renewed for a second season. The plan is to alternate between reading Sorcery Of Thorns & watching Big Little Lies tonight on my ride to D.C.
---
Friends!!! We made it to the end of the week & I personally cannot be more excited for the chill time this weekend. Sure I'll miss not having Game Of Thrones to run home to Sunday nights but thankfully I have a never ending TBR! What are your plans this weekend? Reading anything rave worthy? Sound off in the comments <3's
---
🖤FOLLOW LAIR OF BOOKS🖤
Instagram: @LairOfBooks
Twitter: @LairOfBooks
Goodreads: LairOfBook