Ever had a month where you simply needed change? change of scenery or routine? That was October for this book lover. Working from home as well as remote teaching can be hella fatiguing without adding all the other day to day tasks. I was craving fresh air, trees, bodies of water and trails. So, I took my physical fitness journey to the trails in Ramapo New York. It was exactly what I needed to reinvigorate me for LIFE in general. Books were read & lots of thinking and self care was done as well, all in a safe space. I find that detaching from my apartment REALLY helps me ground myself & feed my soul.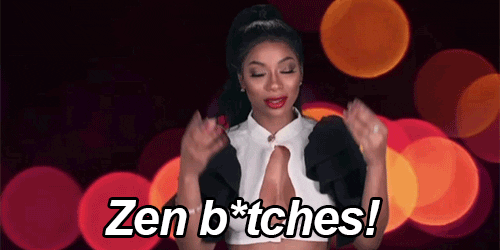 I wish I'd taken more photos on the trails but tbh, they were intermediate and for someone like myself who has just started doing these…it can be challenging to say the least (short girl short strides problems haha!) I did get an AWESOME sense of accomplishment whenever I reached the top or pushed myself the extra mile. My reading was top quality this month! I'm behind just two more reviews for October but they're coming I promise. I just thought it best to wrap up October cause we're already at the end of November smh.
---
My Spoiler free  reviews are linked down below…
FABLE BY ADRIENNE YOUNG – This was a 4 Star read, I love a good father/daughter story and Adrienne Young is an author who really delivers on familial bonds. I listened to the audiobook on Libro.fm, the narrator nailed female pirate with an air of defiance. The world building was A+ and if you're a lover of high seas adventures, this one will make you feel like your dead smack in the middle of an ocean aboard their ship. Pacing at times can be a bit off but the story & character development more than make up for it.
SPOILER ALERT BY OLIVIA DADE – 5 Star read which had me smiling & at times giggling at its raunchiness haha! this is one for those who love fanfiction OR fandoms in general. Our MC is plus size & very secure of herself in a way that had me thriving to embody her glow. She's a fan fiction writer & cosplayer who loves living the geeky life. The male love interest is the star of a Gameofthronesque type show…the same show our MC writes fan fiction for. I gushed all about these characters in my non-spoiler review linked above.
LEGENDBORN BY TRACY DEONN – 5 EPIC STARS!!! yet I'm still sitting here wondering why this one made a splash pre-release yet I haven't seen many reviews out there for it. Those reviews I have seen on Bookstagram from black readers & POC have been rave reviews and I LOVED to see it! This is the ONLY Arthurian re-telling? continuation? I really care for this year. We get a MC who has suffered a very traumatic loss at the start & so her grief is integral to this story. She finds her way into a secret society of the descendants of King Arthur and his Knights of the Round Table. There's blood magic & a war brewing but it's all linked back to the racism & generational trauma experienced by the MC's ancestors. This one moved me on a soul level and is exactly the type of Fantasy I want to read more of.
BLACK SUN BY REBECCA ROANHORSE – 4 Stars & I'm prepared to read more by Rebecca Roanhorse ASAP! this is the start to a new adult fantasy series set in a world inspired by the Pre-Colombian Americas, we follow the Sky Made Clans who are prepping for Winter Solstice. Ya'll ever read a book with a jaw dropping first passage? cause this one had me shaking my head like, what did I just get myself into? HOOKED! Ok. There's a prophecy, a clan of Crow people who have been wronged, retribution, Queer characters (one who just so happens to be sort of a siren), multiple POV's and so much more.
GROWN BY TIFFANY D. JACKSON – 5 Stars simply put this was a Gut wrenching audiobook. Our MC is a teenage black girl who aspires to have a singing career. Her path unfortunately crosses with a narcissistic predator who dangles promises but only seeks to control her mind and body. We see her innocence stripped away while he works to isolate her from a family who loves her and has only sought to take care of her. Many have linked this book to the singer R.Kelly but the author has previously stated that this is not that but is it's own story. Either way, it was at times disturbing to read and others just sad because too often black girls are subjected to having to grow up way before they're meant to. HIGHLY recommend to those seeking to read & connect with stories/characters outside of their own culture, ethnicity or youth experience.
AMERICAN DREAMER BY ADRIANA HERRERA – 5 GLORIOUS STARS!!! In this corner of the interwebz we LOVE Adriana Herrera and whatever she writes I will buy and support. Also listened to this on Libro.fm while cooking & doing laundry. We follow our MC who is a Dominican Gay man leaving NYC and moving to Upstate NY in hopes that he can turn his Afro-Caribbean food truck into a restaurant. When he arrives he meets Jude, the cute librarian guy who is a bit shy but also very curious about Nesto's confidence and swag. Filled with yummy food descriptions and a crew of fellas who are #BFFFriendGoals I ate this book up! haha! Cannot wait to continue on with this series.
---
Lovecraft Country
This was just about the only TV show I managed to watch in October but WOW! Quality streaming content book lovers! I'm not yet finished, I've watched 9 episodes and have been staying away from Twitter spoilers. I hear the ending will break me and I'm just bracing for that. Sci-fi Horror which starts off with a black man who goes on a road trip with his Uncle and friend through 1950's Jim Crow America. Each episode has you clutched in fear for these characters whose lives are constantly in peril between racist America and the actual monsters/demons which I took to be physical manifestations of the hatred steeped in our history/present day.
---
I hope you're all doing well during these tough times, finding things that bring joy and peace to your lives. Big or small, whatever brings your soul joy I hope you've found it or are on your way to finding it. I'd LOVE to hear all about what ya'll have been reading or spending time on/with. Drop some love down below <3's!
---
🖤FOLLOW LAIR OF BOOKS🖤
Instagram: @LairOfBooks
Twitter: @LairOfBooks
Goodreads: LairOfBook