Title: Spoiler Alert
Author: Olivia Dade
Pub. Date: October 6th 2020
Genre: Contemporary Romance
Format: eGalley
Publisher: Avon
Pages: 416 pages
🖤ALC & Galley provided by Publisher in exchange for an honest review🖤
This may just be the book responsible for me dipping into the world of fan-fiction, I had an absolute blast reading from the POV of April & Marcus. If like myself you're someone who didn't quite get on board with the finale of Game of Thrones or Dexter (haha), possibly even thought you could've written a better finale? then this book is for you! Set in a post Gameofthronesque (totally made this word up #noshame) world we follow April a plus size fan-fiction writer for the show Gods of the Gates. April has just tweeted out a photo of herself in a self made/designed Lavinia Cosplay who is one half of the show's OTP. When her photo goes viral it captures the attention of many a troll as well as that of Marcus Caster-Rupp who plays main guy Aeneas AKA the other half of this beloved OTP. One twitter exchange leads to another and Marcus sees himself asking April out on a date to spite the nasty trolls who are body shaming her on social media.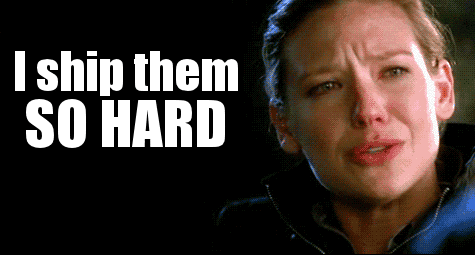 April has no idea that Marcus has a secret online persona he uses to write fan-fiction of his own. Gods of the Gates Fan Fiction that contractually he needs to not be linked back to. In this fandom he's known as Book!AeneasWouldNever, an anonymous writer who gets to take out his frustrations with the show he works in. Little does Marcus know but he and April have a ton in common, April is Unapologetic Lavinia Stan in the Gods of the Gates Fan Fiction world. Furthermore, they have actually been friends all along but Marcus can't let her know his real identity. For Marcus, the acting career he's worked so hard to build means everything to him & he's not ready to risk his contract. However….staying away from April is just simply NOT something he can do.
Content Warning: body shaming, toxic parent relationships, fat shaming
April AKA Unapologetic Lavinia Stan- Honestly represents everything I wish I was a few years ago. April is an empowered woman who is tired of hiding the parts of herself that make her phenomenal. She wants to live her geektastic life out in the open! meet her online friends IRL & last but not least, find the man who will love every inch of her beautiful body inside and out. We get a glimpse of the toxic relationship she had growing up with her parents that shaped her into the woman she is at the start of our story. April is body positive & won't allow anyone, be it friend or family to body shame her.
Marcus AKABook!AeneasWouldNever – THIS MAN! getting to know him meant falling in love with this character. He appears to the masses as this vain persona but in reality he's protecting the softer intellectual he truly is. Also stemming from a toxic childhood, Marcus isn't living in his truth at the start of the story. He's hiding just how amazing he truly is and relies on his fan fiction to express himself authentically. The way he loved up on April in every which way is EXACTLY what I LOVE to see!
Was I expecting to love a book based on fan-fiction culture? No. Was I sucked in & left cheesy smiling? YES! April is beautiful, sexy, smart, creative, and a true friend. She's not apologizing for her body size, nor should she have to! I smiled and nodded YES every time she stood up for herself and claimed her power and femininity. The contrast between who she really is and what Marcus pretends to be is something that really stands out and makes these characters memorable. They both bring a level of healing into each others lives I don't imagine they expected. LOVED to see it! This book was such a fun time, one of my favorite aspects being the excerpts we get from their actual Fan-Fiction. A lot of it being outright silly in its raunchiness HAHA! I'm now eagerly anticipating the next book by Dade which I believe will be based on a fave character of mine in this book! *fingers crossed*
---
🖤FOLLOW LAIR OF BOOKS🖤
Instagram: @LairOfBooks
Twitter: @LairOfBooks
Goodreads: LairOfBook