Spider-Man Homecoming (2017)
Director: Jon Watts
Producers: Kevin Feige, Amy Pascal
Writers: Jonathan Goldstein (Screenplay), John Francis Daley (Screenplay)
Stars: Tom Holland, Michael Keaton, Robert Downey Jr.
Run time: 2h 13min
Rating: ★★★★★ 5 Stars
Spoilers lay ahead…
Its been months since Peter joined the team during the events of Captain America: Civil War. He's back in High School while also "interning" for Tony Stark…well actually, it's more like he has a phone where Happy Hogan who works for Tony as a chauffeur and personal assistant keeps tabs on him. Tony really wants Peter to stay grounded and just be a teen doing normal teen things as opposed to taking on mega villains. He'd prefer it if Peter kept to low level street crime like petty theft while keeping a low profile. Peter on the other hand feels he is more than ready to take on the bigger missions & fully feel part of the team. Living a double life, Peter juggles all of the angst of being a H.S. student by day & vigilante by night.
When one of his routine night excursions has him stumble across a weapons dealer, Peter decides to follow the trail which eventually leads him to a deadly operation led by Vulture (Michael Keaton). Utilizing scrap metals from the alien ships last seen in The Avengers (2012) EPIC battle in New York, Vulture has been creating weapons of mass destruction. In an effort to prove himself ready to Tony Stark, Peter decides to take Vulture down while Happy Hogan is made to believe that he is in school & not getting himself in any real life threatening danger. This of course takes a bit of cunning on Peters part since Tony is no fool and has gifted him with a fully decked out new suit. The new suit comes with all sorts of new neat tricks with artificial intelligence built in however, it also has a tracker & limitations to ensure Peter isn't biting off more than he can chew. Basically wherever Peter goes that isn't school or home triggers a call from Happy. With the help of his best friend Ned, Peter figures out how to remove the tracker and off he goes to catch the bad guy…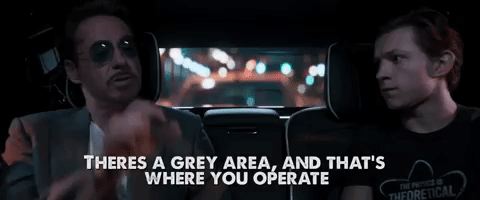 CHARACTERS
Peter played by Tom Holland is bouncing off the walls excited to be "interning" for Tony Stark & from the opening scene this excitement jumps off the screen. I LOVED how authentic Peter the high school student felt. From vlogging his every day shenanigans, navigating high school as the unpopular one, chillin' with his best bud Ned, AND having a high school crush…Peter has a pretty normal teenage life. It's his night time activities that keep him always on the go & one wrong step away from getting caught. I enjoyed seeing this version of Peter more than I have his predecessors which caught me by surprise. Also, he's hella effortlessly funny & a total fanboy of all things Marvel superheroes 🙂
---
Vulture played by Michael Keaton made for an interesting villain. We got a brief glimpse of this character before he turned into a baddie. This was a man contracted to clean up the mess left behind by the events that took place in NYC during The Avengers. He had a team of workers he cared for but quickly lost the contract to Damage Control which is a company created by Tony Stark specifically tasked with the clean up of superhero-created messes. Instead of walking away, he kept a piece of the alien ship and with the help of an inventor under his employ, created weapons of mass destruction. A family man himself, Vulture is keeping his nefarious dealings away from his wife and daughter. Was anyone else shocked when he turns out to be the father of Peter's crush? I sure had a shocked soap opera moment haha!
---
Ned aka Peter's best friend played by Jason Batalon was one of my fave characters! after finding out Peters identity as Spider-Man, he is convinced this is the 1 way ticket to finally being popular. Once he realizes he can't share Peters identity with anyone, he settles for being his wing-man. Ned is smart & tech savy (read as: hacker extraordinaire) which helps Peter in working around the protocols Tony Stark has placed on his suit. Also very happy to see Marvel casting a Filipino-American actor for this role, to me it's a step in the right direction when it comes to diversifying our media.
---
Aunt May played by my love Marisa Tomei was AMAZING! yea I'm totally a biased opinion since I have loved all of her movies ever since My Cousin Vinny! Marisa plays a younger version of Aunt May who encourages Peter to have fun & "loosen up" lol. She's also not as unaware of his night time comings & goings as Peter would like to think. Still she allows him his space but checks in on him every once in a while. That ending scene where she walks in on him in his suit & gives us a "WTF?!?!?!" was classic Marisa Tomei & I LOVED IT!
---
Mary Jane played by Zendaya (doesn't need a last name cuz she's cool like that lol) was literally a nice surprise! The girl Peter has a crush on throughout the whole movie who also happens to be Vultures daughter *gasp* isn't Mary Jane. Instead, the girl who throughout the movie has turned up wherever and whenever with side commentary (lived for these) is Mary Jane & I LOVE HER! she gave me Breakfast Club vibes & that scene where she's willingly sitting in detention drawing peoples faces while they're "in desperation" was one of my faves! CANNOT wait to see how her role is further developed *insert excited emoji*
FINAL THOUGHTS
I will be the first to admit that up until Homecoming, I enjoyed the Spider-Man movies but never walked away saying I LOVED THAT MOVIE!!! this time around both my hubby & I couldn't stop talking about all of the things we loved. One of the things we noticed right away was that for the most part, Homecoming was filmed in Queens. For hubby, seeing the streets he grew up around was nostalgic & exciting because we don't typically get major motion pictures in the "Outer Boroughs" (anything that isn't Manhattan lol). Although there were some scenes in Manhattan, these were minimal. Marvels continued efforts to diversify their cast did not go unnoticed with the casting of Zendaya (Mary Jane), Jason Batalon (Ned), Laura Harrier (Liz aka H.S. Crush), Doris Toomes (Liz' mom), and Selenis Leyva (teacher) to name a few. With many humorous moments & scenes where it seemed like Peter could not get in any deeper, Homecoming succeeded in making me a fan. I found myself at times rooting for him to take down Vulture & others squinting and wishing he'd just call Tony haha! which only further proves that Marvel succeeded in portraying Peter as just a 15 year old teenager NOT yet ready to take on super villains. Last but definitely NOT least! who do I need to thank for bringing back Pepper Potts?!?!? BEST come back EVER!!!
I've seen a lot of my blogging buddies raving about Homecoming on Twitter, I want to know…is this the BEST Spider-Man movie? & Tom Holland or Tobey Maguire, who played Spidey better? 🙂