Title: Crazy Stupid Bromance (Bromance Book Club #3)
Author: Lyssa Kay Adams
Pub. Date: October 27th 2020
Genre: Contemporary Romance
Format: eGalley
Publisher: Berkley
Pages: 352 pages
GOODREADS | BARNES & NOBLE | AMAZON
🖤ARC provided by author in exchange for an honest review🖤
Alexis and Noah have really solidified in my corner why I love & truly enjoy reading romance books with the friends to lovers trope. We're first introduced to Alexis in Undercover Bromance (Bromance Book Club #2) where she is the victim of a celebrity chef's sexual harassment. Noah is the hacktivist we also meet in book 2 who so happens to have been recruited by the Bromance Book Club to help bring down the dirt bag celebrity chef. Since then, Alexis and Noah have become very good friends who speak every day & spend most nights having dinner at home. They also have one thing in common, both have lost a parent at a young age and find comfort in each other over their shared loss. Is there non-platonic chemistry? ABSOLUTELY! but both are super protective of their friendship to rush into anything. We see Noah play it safe because he saw Alexis deal with sexual harrasment & the last thing he wants is to infringe on the trust she has in him. Alexis on the other hand never really looked at Noah as anything more than a friend up until some awkward physical encounters occur.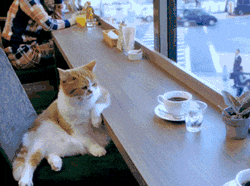 We follow Alexis as she manages her Cat Café…Yes, a café where cats are saved and Alexis finds them their forever home. She also hosts Yoga at night for victims of sexual harassment/domestic violence. In the background, the Bromance Book Club is busy with a wedding underway. Mack from book 2 is marrying Liv who has solely left him and the guys in charge of wedding planning. Mack has detected Noah's predicament aka Friend Zone status & sets out to make him a member of the Bromance Book Club.
Alexis aka Lexa- exudes vintage 60's style fashion, bakes & cooks, over feeder, master home/holiday decorator, cat savior and a safe haven to survivors of sexual harassment/domestic violence. Lexa and her HIGHLY Sus (haha!) cat Beefcake are now faves in this corner.
Noah- a Hacktivist in his younger years has now turned himself into a very low key wealthy owner of a security firm. When he isn't providing services to members in the Bromance Book Club who are of high profile, he is grabbing tacos *heart eyes* for Lexa. Noah does have some baggage stemming from the loss of his dad in the war that took place in Iraq. Like Lexa, he has some boundaries that make their friendship more of a comfort zone that neither want to leave. Side note: Noah is by far the hottest Bromance Bookclub member I've pictured in my head!
It's safe to say that at this point I'm deeply invested in this series & its characters. I enjoyed the first installment, however I've noticed my enjoyment levels significantly increase with each new book. As of this moment, Crazy Stupid Bromance is my absolute favorite. The friendship at the core of this book is well developed, we get the back history and the shared grief. I was cheering these two on all along and also hoping their friendship would remain intact. These books offer humor while also tackling some serious subject matter, the perfect balance between the two. I LIVED for the scenes between Beefacake & Noah, truly frightened yet entertained haha! The Bromance Bookclub is back together again & the book they've chosen is a slam dunk! I enjoy seeing my faves back on the page because Lyssa Kay Adams has given each such an authentic unique voice. Their personalities are intact including those of the supporting cast, which only piques my interest for our next couple in crisis. Could we finally be getting "The Russian"?!?! I Hope so!
---
🖤FOLLOW LAIR OF BOOKS🖤
Instagram: @LairOfBooks
Twitter: @LairOfBooks
Goodreads: LairOfBook