The Thriller genre isn't where you'd typically find me but this year has already started off oddly and we're just going with it at the moment. I have found Thrillers to be easier to digest as audiobooks while I'm multi-tasking indoors and outdoors. Funny observation, I run faster on the treadmill when I think someone is chasing me while listening to ANY thriller smh. No idea how this looks but if I had to guess, I'd say it's possible my Pheobe Buffay style of running keeps anyone from coming up behind me 😂  it's a work in progress. I listened to the audiobook for each of the thrillers down below, and they're listed in order of enjoyment.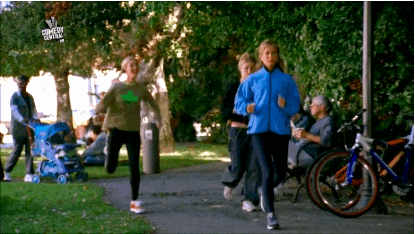 In My Dreams I Hold a Knife (5 STARS) – Did I stay up until 2am finishing this book? Yes…yes I did and although I payed for it dearly the next morning, I had zero regrets while living in the moment. Hands down a compulsive read that is equal parts character and plot driven, this is one you can't put down for long. Some reviewers say this has Riverdale Vibes and I'd have to agree. We have an academic setting with seven characters who've gravitated towards each other and have a complex friend group. It's told in past and present timelines from mostly Jessica's point of view, she is an unreliable character with one hell of a narcissistic personality and fits the bill as far as unlikeable characters go. We get to slip into some of the other characters points of view as they recount their version of events. Ten years ago, one of the friends was murdered on campus and most walked away ready to leave that all behind. Someone decides to make Homecoming the time to lure out the killer to carry out overdue justice which triggers the unraveling of secrets, lies and betrayals within their friend circle. This was fast paced with the first half reading a bit lighthearted (when compared to the latter half this almost seemed like the "good times") as we see these characters living their best college lives, dating, and dealing with baggage that stems from unhealthy/toxic relationships with their parents. The second half was like watching the domino effect set off, at which point there is no turning away. Dark & filled with obsession, greed, vanity, violence and narcissism…I don't think I've ever read something so wrong yet also satisfying that I couldn't stop thinking about the way it ended.  Also, other than Coop I can't really say I liked any of these characters but I found myself 100% invested in all of their lives. In any case, this author is now on my radar for future reads.
A Flicker In The Dark (4.5 STARS) – I'm not well read with thrillers like I am with Fantasy but as I've been reading more from this genre, I'm beginning to spot the red herrings. We follow Chloe who is a psychologist in a small Louisiana town where her father is serving time for having killed 6 young girls twenty years ago. Like many children of killers in small towns, your last name haunts and shames you. She's trying to create a new life detached from her dad but when girls begin to go missing again, she's thrust back in time to the days leading up to his arrest. This doesn't read like a debut at all, the writing is engrossing and almost plays out like a movie. I say this while also acknowledging the fact that it wasn't too difficult to piece together certain things. I still ate it up and appreciated the whole cinematic vibes it was giving as we flash back and forth between Chloe's childhood and present timelines. Our MC is addicted to prescription medication and with her easy access to them, it makes for moments where you start feeling as paranoid as she's acting half the time. I lost count of the times I thought to myself "but what if" or "but then that can't be" safe to say there was an abundance of plot twists. I also wasn't surprised at all to see that it has already been picked up by HBOMAX, my true joy kicked in when I saw Emma Stone tapped in for the lead 👏🏽 we Stan Emma in this corner 🙌🏽
The Collective (4 STARS) – "𝐈'𝐯𝐞 𝐥𝐨𝐬𝐭 𝐭𝐰𝐞𝐧𝐭𝐲-𝐞𝐢𝐠𝐡𝐭 𝐩𝐨𝐮𝐧𝐝𝐬 𝐬𝐢𝐧𝐜𝐞 𝐄𝐦𝐢𝐥𝐲'𝐬 𝐝𝐞𝐚𝐭𝐡. 𝐈'𝐯𝐞 𝐬𝐭𝐨𝐩𝐩𝐞𝐝 𝐜𝐨𝐥𝐨𝐫𝐢𝐧𝐠 𝐦𝐲 𝐡𝐚𝐢𝐫 𝐚𝐧𝐝 𝐰𝐞𝐚𝐫𝐢𝐧𝐠 𝐦𝐚𝐤𝐞𝐮𝐩 𝐚𝐧𝐝 𝐈 𝐡𝐚𝐝 𝐭𝐡𝐞 𝐛𝐨𝐥𝐭-𝐨𝐧𝐬 𝐫𝐞𝐦𝐨𝐯𝐞𝐝, 𝐚𝐧𝐝 𝐬𝐨 𝐈 𝐚𝐦 𝐥𝐢𝐭𝐞𝐫𝐚𝐥𝐥𝐲 𝐧𝐨 𝐥𝐨𝐧𝐠𝐞𝐫 𝐭𝐡𝐞 𝐰𝐨𝐦𝐚𝐧 𝐈 𝐨𝐧𝐜𝐞 𝐰𝐚𝐬. 𝐓𝐡𝐞𝐫𝐞 𝐢𝐬 𝐧𝐨 𝐫𝐞𝐚𝐬𝐨𝐧 𝐭𝐨 𝐰𝐚𝐭𝐜𝐡 𝐦𝐞. 𝐍𝐨 𝐟𝐥𝐚𝐭𝐭𝐞𝐫𝐢𝐧𝐠 𝐫𝐞𝐚𝐬𝐨𝐧, 𝐚𝐧𝐲𝐰𝐚𝐲."
Ever find yourself reading a book where you're just as conflicted as the protagonist? The premise of this book lured me in possibly because as a mom myself, the thought of a group of anonymous women (who've all lost a child) working together to deliver justice is hard NOT to get behind. The MC Camille has been grieving the death of her 15 year old for the past 5 years and there isn't a day that goes by that she isn't angry and obsessed with the killer. Her marriage has come to an end and she's left to live in this big colonial style house where the memories of her daughter haunt her. Camille follows the life of her daughter's killer via social media and ends up showing up at an event where her actions grab the attention of this secret group of women. This is a trip down the dark side of justice that had me back & forth with my feelings but I believe that to be the intent here. Camille at some point finds herself trying to figure out whether the group is strictly operating in the name of avenging these children or if they too are like the monsters they seek to eliminate in the name of justice. I'm very curious to see how this all ends, in many ways the MC disregards logic and comes more from an emotional headspace. I can't say I blame her for it but things snowball rather quickly once she acts upon her darkest fantasy. If you can read from the POV of someone who in an obsessive cycle and very angry, this is worth a go.
---