Happy Saturday Bookworms!!! I'm currently enjoying my Christmas Eve Eve with the family but I'm taking a little break to come in here & spread a little tag joy. The Books Under the Tree Tag was originally created by Game Of Tomes two Booktubers that are new to me & I've already binge watched a TON of their videos, their channel is super cozy to watch. I was tagged by the wonderful Mel over @ Mel To The Any who I discovered just this year & OMYGAHHHH! seriously bookworms, check out her content & see for yourselves why she's my newfound favorite!
Ok, it's now 3:30am & I can't sleep so I've returned to this tag since earlier today was hectic & I couldn't finish. I'm beginning to wonder if my childhood excitement for Christmas Eve has stayed with me sub-conciously, keeping me up all night 🤔 not sure but my mind & body are not aligned 😂 not saying I'm grinching it but…On to the tag ☃️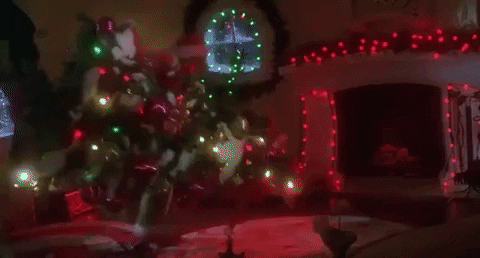 ---
What book would you like to find under the tree this year? 
There's only one book I'm looking for under my tree & it's the U.K. edition of The Bear and the Nightingale *sighhhh* sold out on Book Depository, I've got notifications turned on for a re-stock but I'm not confident in that happening. Instead I will be ordering a copy from AbeBooks as a Christmas/Birthday gift to myself 🎁 and maybe I'll even have it gift wrapped 😂
---
What is the best book you have ever received for Christmas? 
2 years ago my sister got me the Deluxe 1st Edition of Fables. It's hardcover and pretty and I LOVE it! the illustrations are BEAUTIFUL and eye catching. 2018 is the year I binge Fables 🤗
When a savage creature known only as the Adversary conquered the fabled lands of legends and fairy tales, all of the infamous inhabitants of folklore were forced into exile.
Di
the normal citizens of modern-day New York, these magical characters created their own secret society-within an exclusive luxury apartment building on Manhattan's Upper West Side-called Fabletown. But when Snow White's party-girl sister, Rose Red, is apparently murdered, it is up to Bigby, Fabletown's sheriff, and a reformed and pardoned Big Bad Wolf, to determine if the culprit is Bluebeard, Rose's ex-lover and notorious wife killer, or Jack, her current live-in boyfriend and former beanstalk-climber.
---
What book gives you all the Christmas feels?
Goblet of Fire by JK Rowling always stirs up Christmas feels for me. Specifically the arrival of the Beauxbatons & Durmstrang schools at Hogwarts. There's also a Christmas tree scene in The Goblet of Fire movie that is pretty vivid in my mind…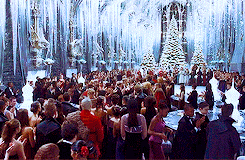 ---
What book do you plan on reading to put you in the Christmas spirit this year?
I've actually already done this when I picked up The Girl in the Towerby Katherine Arden in anticipation of snow & Christmas. Although this book isn't about Christmas, there really is no other book (other than Harry Potter) that puts me in the wintery holiday spirit. Atmospheric and covered in snow, this sequel was the perfect book to put me in the X-mas state of mind ☃️
---
What book have you read this year that you would like to throw out with the Christmas tree after the holidays? 
Ha! a bit of a mean one here 😂 & I don't typically have books that I'd toss out BUT there is one this year 😱…I really had high hopes for my very first Andy Weir read & it just didn't even come close to what others felt about his other book The Martian. In fact, it really made me feel uncomfortable so no, I don't plan on keeping my copy.
---
What is a book from this year that you would like to place under a friend's tree? 
Mel & I have the same book in mind for this prompt & that's because this book should be read by EVERYONE. I have my sister currently reading The Hate U Give & can't wait to discuss the themes with her. Poignant, relevant, soul searching, impactful, and heart-breaking are only a few of the words that come to mind when describing this book. 2018 is the year we see it hit the big screen & I for one am trying to have as many loved ones read the book before then 💙
---
Challenge: Create a stack of books in which the spines alternate green and red! Share the titles.
---
The best way to spread Christmas cheer is singing loud for all to hear. Who do you tag?
I am a bit late with this tag since it's now officially Christmas Eve 🙈but better late than never amiright? 😂 If you're in the mood to do this tag, consider yourself tagged but in the spirit of the holiday, here are a few bloggers I have in mind for this tag (no pressure bookworms, it is the day before 😂)
---
I wish you all a happy & wonderful holiday surrounded by those you love! 💕May your trees have a few books from your WISH-LISTS (if not all) waiting for you to unwrap. I will return next week with my highly anticipated 2018 reads🤗
FOLLOW LAIR OF BOOKS ON…
Instagram: @LairOfBooks
Twitter: @LairOfBooks
Goodreads: LairOfBooks