Title: Take The Lead
Author: Alexis Daria
Pub. Date: Re-Published on February 14th 2023
Genre: Contemporary Romance/Latinx
Format: eARC + audiobook
Publisher: St. Martin's Griffin
Pages: 368/11 hours + 10 minutes
GOODREADS | BARNES & NOBLE | AMAZON | LIBROFM
☆☆ARC provided by Publisher in exchange for an honest review☆☆
Gina Morales has BIG dreams when she hops on a seaplane to Alaska to meet her partner in the next season of The Dance Off. In the four season of being a contestant on the show, she has yet to make it to the finals. She's hoping to get paired with an Olympian who is agile and can easily learn the choreography. Who she meets when they dock in Alaska is not what she expected. Tall Rugged Outdoorsman Stone Nielson signed up as a contestant for The Dance Off to help out his family but a dancer he is not. He does however have some experience with reality tv since his parents and siblings are known for their show based on outdoor living in the Alaska wilds. When these two meet and realize just how big the differences are in the lives they're living, they question whether this can workout. To the shows producers, their differences are exactly what makes them the ideal dance couple to have a "Showmance." A storyline to fee the public and get them invested in Gina and Stones on screen chemistry is a tried and tru way to boost up the ratings. Neither one wants to fake a romance but they both have a lot to lose if they don't. For Gina, it's her last shot at fame and really jump starting her career. It's the reason why she left the Bronx and moved to L.A and she doesn't want to throw in the towel just yet. For Stone who is hiding a family secret, this show can grant him the money he needs to help them. This may not be his comfort zone but he's up for the challenge.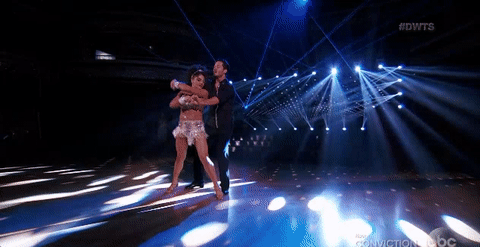 This was a tandem read between my eGalley copy and audiobook which may be the reason why I didn't rate it a bit higher. It took me a bit to get into the narrators style but I'd say two hours in is when elements of the show started taking off and I started to get into the story. It's fast paced with what can be called instalove but considering the whole setting is this episodic dance show, we get to see Gina and Stone's romance develop along the way. This wouldn't typically work for me but that's because I'm just a slow burn girlie, I actually felt the instalove worked in this story because of its dance show theme. Alexis Daria did her thing with scene and dance descriptions that brought excitement to the page. The competition aspects were woven in perfectly and because some of the dances practiced/performed are sensual, our couple had a ton of close proximity moments where it was just 🔥🔥🔥
As a fellow Latinx woman I loved seeing Gina address the stigma attached to many Latinx women. How in the entertainment industry, Latinx women are often seen as spicy, feisty and seductive. Taking care of her image and maintaining her professionalism is something she takes seriously because of these stigmas. This is definitely a romance but first and foremost we get a strong goal oriented Latina who knows herself and what will make her happiest is this career she's nurtured. Stone is also very true to his roots and Alaska is his home, we see him getting real with himself and redefining his wants/needs. I loved these two together, they're polar opposites yet their differences compliment each other so well. If you love dancing, choreography, and high stakes competition with a big dose of close proximity/steamy scenes then pick this one up!
---
FOLLOW LAIR OF BOOKS
Instagram: @LairOfBooks
Twitter: @LairOfBooks
Goodreads: LairOfBooks
The Story Graph: LairOfBooks