#ARCstravaganza is a weekly meme hosted by the wonderful Flavia over @Flavia the Bibliophile where book bloggers/bookstagrammers have a chance to show off their ARCs/eARCs/Galleys!
Hello Readers! This is my 9th week participating in #ARCstravaganza Monday & this week I've chosen Haunting the Deep (How to Hang a Witch #2) by Adriana Mather to hopefully encourage Mother Nature to give us sweater weather soon *wishful thinking* I'm ready to read all of the fab Fall cozy reads while hugging a nice hot cup of tea or coffee. Last year around this time I read How to Hang a Witch (my review) with very high expectations & although it wasn't a OMG I LOVED IT! book, It was an entertaining read. Also, the author Adriana Mather is a descendent of Cotton Mather which I found fascinating to no surprise since I've always been a fan of the history behind Witches. I was very young when I first became obsessed with reading everything & anything on the Salem Witch trials. Although How to Hang a Witch was a 3 star read for me, I do remember it starting off strong. Some time after I caught wind of the author getting a book deal for additional books in this series. This time she would be writing about the Titanic & as it turns out, Adriana Mathers is also a descendant of survivors from the Titanic!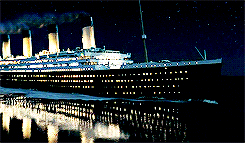 I can't help it…I have my hopes up once again & I really am hoping this time, I will get a 5 star read *fingers crossed* 
---
The Titanic meets the delicious horror of Ransom Riggs and the sass of Mean Girls in this follow-up to the #1 New York Times bestseller How to Hang a Witch, in which a contemporary teen finds herself a passenger on the famous "ship of dreams"—a story made all the more fascinating because the author's own relatives survived the doomed voyage.
Samantha Mather knew her family's connection to the infamous Salem Witch Trials might pose obstacles to an active social life. But having survived one curse, she never thought she'd find herself at the center of a new one.
This time, Sam is having recurring dreams about the Titanic . . . where she's been walking the deck with first-class passengers, like her aunt and uncle. Meanwhile, in Sam's waking life, strange missives from the Titanic have been finding their way to her, along with haunting visions of people who went down with the ship.
Ultimately, Sam and the Descendants, along with some help from heartthrob Elijah, must unravel who is behind the spell that is drawing her ever further into the dream ship . . . and closer to sharing the same grim fate as its ghostly passengers.
What are some ARCS/eGalleys you're excited to have Bookworms? Has anyone read How to Hang a Witch? was it a hit or miss? are you looking forward to Haunting the Deep? 🙂
---
FOLLOW LAIR OF BOOKS ON…
Instagram: @LairOfBooks
Twitter: @LairOfBooks
Goodreads: LairOfBooks