Title: Meg & Jo
Author: Virginia Kantra
Pub. Date: December 3rd 2019
Genre: Contemporary Romance
Publisher: Berkley
Pages: 400 Pages
GOODREADS | BARNES & NOBLES | AMAZON
🖤ARC provided by author in exchange for an honest review🖤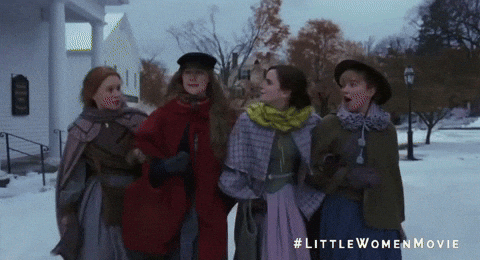 Inspired by Little Women, this is the story of the March Sisters…"Reliable Meg, Independent Jo, Stylish Amy, and Shy Beth" told in dual POV we follow Meg & Jo as the oldest of the bunch as they lead very different lives. Meg always wanted the husband, white picket fence, and kids while Jo dreamt of becoming a journalist in NYC. When we meet them they've got a lot on their respective plates & things aren't quite what they had planned. Meg is struggling with married life all while managing her twins. Jo's writing career is stagnant & instead she's working in a restaurant kitchen by day & anonymously running a foodie blog by night. When their mother who is the rock in the family falls ill, the March sisters are drawn home. It's been years since I've read Little Women by Louisa May Alcott but its remained a childhood favorite of mine. Character traits from the original cast can still be seen in this modern day story set between North Carolina and New York City. At its core this is a story about familial bonds and the unexpected twists & turns life can take. 
Although we do get to meet all four March Sisters, the book is only told from the POV of Meg & Jo. They are the oldest of the bunch & look over the younger ones while managing their own lives…
Meg – Married with Twins, Meg has the picture perfect family set-up but not all is at it seems behind closed doors. Both Meg & her husband have sacrificed perhaps too much of their individuality to make their family unit work. I really admired seeing this couple work through their issues & persevere. Meg lovingly takes after her mother & providing a loving home is  her #1 priority. Seeing her handle married with kids life while also trying to stay in touch with her siblings was something I could relate to. She is very much a juggler who sometimes forget to give herself a break which made me really connect with her.
Jo – Having left North Carolina for life in the Big Apple pursuing a writing degree, Jo has big dreams! Except life has a funny way of not always turning out exactly as you've planned. Still, Jo settles into NYC as a worker in a restaurants kitchen where her ears stay open for inspiration. By night she is an anonymous food blogger with some success. Things really get hot in the kitchen with an unexpected attraction between Jo & the very handsome black Chef with full sleeved tattoos. Things of course gets a bit complicated when she has to drop everything & head back home to tend to her sick mother.
I've come to the realization that I really enjoy stories centered around big families because of all the complexities added to the story. The March sisters all have very different personalities, ambitions, and pursuits but what I loved about them is how they embraced one another. There was a mutual understanding of everyone's personal lives & how to come together for the head of their family. Marriage (the good & the bad) plays a big part in this story, content warning for separation. The bonds between Father/Daughter are also discussed with regards to the absence the sisters feel even while having their father in their lives. Although they are supporting characters, seeing the parents of the March sisters battle their own rough waters made this story come full circle. This was heartwarming & heartfelt in more ways than one. I will absolutely look out for more from this author in what I hope is the near future.
---
🖤FOLLOW LAIR OF BOOKS🖤
Instagram: @LairOfBooks
Twitter: @LairOfBooks
Goodreads: LairOfBook