The last official month of Summer has come & gone leaving me sitting here drafting up a wrap-up in warm fuzzies while sipping on my coffee. My reading in August was very scattered and looking back that was probably because I was anticipating September too hard to even focus. I'm a type A personality who organizes & plans for things and so most of my focus was in preparing for a more stress free work from home/remote learning set-up in my apartment. I did still squeeze in a few more trips to the beach in an attempt to stretch out the golden tan I worked so hard for smh. This all is the reason for which I listened to 4 audiobooks & read 3 physical books. Although I found some new authors I'd like to read more from, the only read to truly blow me away was Lobizona by Romina Garber & this now being September aka Latinx Heritage month, I hardcore recommend this read my friends! ❤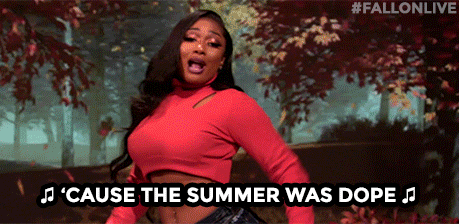 THE ROOMMATE BY ROSIE DANAN – (MY REVIEW)✨4 STARS✨FUN, STEAMY & SEX POSITIVE
THE VOTING BOOTH BY BRANDY COLBERT – (MY REVIEW) ✨4 STARS✨ A TIMELY READ THAT BRINGS ISSUES WITH VOTER SUPPRESSION TO THE FOREFRONT
FAITH TAKING FLIGHT BY JULIE MURPHY – (MY REVIEW) ✨3.5 STARS✨CUTE QUEER STORY ABOUT FRIENDSHIPS WITH SOME PACING ISSUES THAT MADE IT CHAOTIC TOWARDS THE END
ONE TO WATCH BY KATE STAYMAN-LONDON -(MY REVIEW)✨5 STARS✨ AUDIOBOOK WAS THE WAY TO GO! QUITE THE ADDICTIVE READ WITH A PLUS SIZE MC ON A DATING SHOW WHO FACES MUCH ADVERSITY & CRUELTY. THIS WAS AT TIMES HARD TO LISTEN TO BECAUSE IT WAS TRIGGERING, STILL ONE OF MY FAVES THIS YEAR
THE FAITHLESS HAWK (THE MERCIFUL CROW #2) BY MARGARET OWEN – (MY REVIEW) ✨ 5 STARS✨ THIS BOOK! AHHH! ALL THE FEELS, TRULY LEFT ME BAWLIN' MY EYES OUT ON THE VERY LAST PAGE. THIS DUOLOGY  IS NOW SITTING NEXT TO MY MY SIX OF CROWS DUOLOGY AS FOREVER FAVORITES
HIS & HERS BY ALICE FEENEY – (MY REVIEW) ✨ 4 STARS✨ONCE AGAIN LIBRO.FM CAME THROUGH WITH A BONE CHILLING ALC! TOLD IN MULTIPLE POV WITH ONE OF THE 3 NARRATORS USING A VOICE CHANGER…COULDN'T LISTEN TO THOSE CHAPTER AT NIGHT JUSSAYIN.
LOBIZONA BY ROMINA GARBER – (MY REVIEW) ✨5 STARS✨ROMINA GARBER DELIVERED SUCH A SOLID STAND OUT DEBUT! IF YOU'RE LOOKING FOR SOMETHING TO REPLACE SHE WHO SHALL NOT BE NAMED…LOBIZONA WILL DEF GIVE YOU HP VIBES.
PROJECT POWER EXCEEDED EXPECTATIONS, SET IN NEW ORLEANS WE FOLLOW A TEEN WHO TEAMS UP WITH A COP & EX SOLDIER TO GET TO THE BOTTOM OF A VERY SERIOUS DRUG THAT HAS HIT THE STREETS. A DRUG THAT GIVES YOU UNPREDICTABLE SUPER POWERS FOR 5 MINUTES.  HIGH ADRENALINE DELIVERED BY JAMIE FOX WHO HAS YET TO DISAPPOINT ME.
"A COVERT TEAM OF IMMORTAL MERCENARIES ARE SUDDENLY EXPOSED AND MUST NOW FIGHT TO KEEP THEIR IDENTITY A SECRET JUST AS A UNEXPECTED NEW MEMBER IS DISCOVERED" I HAD NO IDEA THIS ORIGINATED FROM A COMIC BUT I WAS LEFT WITH A NEED FOR MORE! I TRULY WISH THIS HAD BEEN MADE A SERIES BUT THAT COULD JUST BE MY BIAS TOWARDS ANYTHING HAVING TO DO WITH IMMORTALS. LOVED THESE CHARACTERS (NOT ENOUGH TIME) AND THEIR OLD TIES TO ONE ANOTHER. AGAIN, JUST WISH WE GET MORE.
---
🖤FOLLOW LAIR OF BOOKS🖤
Instagram: @LairOfBooks
Twitter: @LairOfBooks
Goodreads: LairOfBook