Top 5 Tuesday is hosted by Shanah the Bionic Book Worm, every week there are bookish prompts that cover a wide variety of themes. I wish I had checked in earlier in April because Shanah had posted topics with the current Pandemic/stay home initiative in mind. Many of us have either found ourselves struggling with reading & adjusting to the circumstances OR quite the opposite. Some are finding themselves rapidly going through that once upon a time intimidating TBR. I was one who struggled for a few weeks with the state of the world & found comfort in non-bookish things. This month I'm very happy to see that I tackled the books on my TBR & enjoyed those reads. That being said, there are many series I've had on my shelves for quite some time that I will be prioritizing…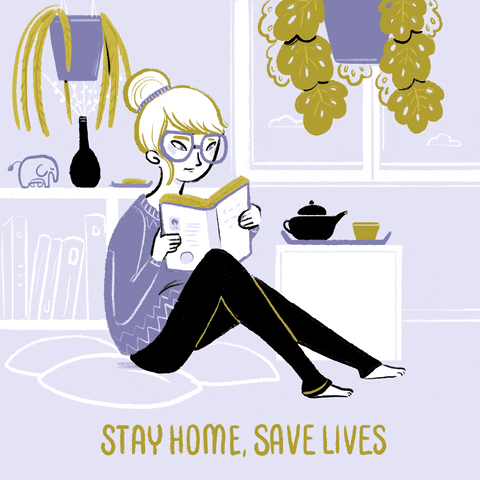 LADY MIDNIGHT BY CASSANDRA CLARE – I'm wayyyy overdue with starting The Dark Artifices series that follows the Shadowhunters of L.A. I'm ready to dive back into this world & see how Emma and Julian have matured since I last I saw them.
CITY OF BRASS BY S.A CHAKRABORTY – I went out of my way to order the U.K. editions of this series & they are STUNNING! but besides having amazing covers, there's a djinn warrior and a MC who is a skillfull con woman. Ever since I can remember, stories with genies/djinn have always intrigued me. I will go as far as saying I think this will make my top 20 of 2020 🤞🏽
NEVERNIGHT BY JAY KRISTOFF – The hype is Nanas on this trilogy,  I haven't started this series but I sure have heard a ton about Mia Corvere. Mia's reputation is pretty bloody & I'm hella intrigued by this assassin who made waves & has continued to do so these past couple of years. This is also a series I know I'm going to love (just a hunch) & so I went ahead and ordered the U.K. editions. Being that I miss Arya Stark something fierce! I have a feeling Mia may just fill the void Arya has left in my soul 🤞🏽
THE FIFTH SEASON BY N.K. JEMISIN – I've purposely stayed away from Goodreads Synopsis but there's no evading the praise this book has received. It won so many awards & there's very few people I know personally who've disliked it. Complex world building (glossary included) inspired by Ancient Egypt & amazing multi-faceted characters who are nearly all black. The time has come to stop sleeping on what may easily become my FAVORITE Adult Sci-Fi/Fantasy.
THE POPPY WAR BY R.F. KUANG – Features a MC who is accepted into a elite military school. Here our MC is met with a ton of adversity because of gender, color, and socioeconomic status. When the MC discovers their aptitude/gift for shamanism. Discovering she is able to communicate with the Gods who were once thought dead may be the key to mastering her gift & survival within the school. I've heard this one is very trigger heavy, that being said I am very much looking forward to finally stepping into this world.
---
🖤FOLLOW LAIR OF BOOKS🖤
Instagram: @LairOfBooks
Twitter: @LairOfBooks
Goodreads: LairOfBook